New Thetis
Specification
Thetis was designed by Jeff Schionning and built by a boatyard in Queensland, Australia in 2005.
Construction material: DuFlex balsa panels/epoxy.
Length: 16.50, Beam: 8:50
Life on Thetis
After two years of hard restauration work and Covid 19 restrictions we are now on the move again. In the Caribbean after 23 days of crossing in mostly feeble wind – or no wind at all we are leisurely moving up the island chain from Grenada to wherever we get before the hurricane season 2022 sets in.
Old Thetis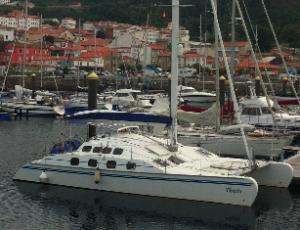 Construction:
Thetis, a Tropic 12, was built by Samuel Boudon in La Rochelle, France. The boatyard, Naval Force 3, is a small boatyard specialized in custom-built boats of quality craftmanship. The Tropic 12 was only built twice in this version. 'Boutique catamaran' is a title she deserves with justification.
Under water: solid GRP plus 1 layer epoxy, 2 layers epoxy primer, 2 – 5 layers Jotun Megayacht antifouling (2017), above water: plywood/epoxy. All surfaces inside the boat are either solid wood or veneered marine grade plywood in maple. All painted areas inside and outside are 2K PU paint (AWL Grip). The hollow keels are single skin laminate to withstand grounding and are independent of the hull structures.
The rudders are semi balanced with shafts of 2 inch diameter aluminum rods.
The steering system is hydraulic (Robertson RPU 160 hydraulic pump + Lecomble& Schmitt hydraulic cylinders) driven by the wheel (LS30 Lecomble & Schmitt) mounted in the cockpit. Emergency steering access is available in each hull. Two independent autopilots are available.
Accomodation (please click on pictures to see the full layout plans)

The saloon contains a six seat dining table with U- shaped settee, chest of drawers and full size chart table with electric control panels, VHF transceiver, AIS, radar and radio. Plenty of storage room in compartments and shelves behind and under the settee. Headroom differs from 1,80 m in the center close to the back and goes down to 1,75 and 1,70 towards the dining table/settee and the sides.
The galley on the port side of the saloon consists of a gas stove (3 burners), a gas oven/grill, double sink, fridge WAECO MODEL 54 (90 liters), ample space in various cupboards and drawers. A shower room is next to the entrance with space for wet clothes.
The starboard hull consists of a double bed above the engine-room with a Smartvent solar ventilator, plenty of storage room in a wardrobe, shelves and lockers with sliding doors, a single bed and a heads compartment (toilet with a JABSCO manual pump, washbasin). The bow space (watertight) is accessible through a hatch in the deck and contains a crash box, a sewage tank and plenty of space for sails. More storage room (bikes) can be found in the stern.
The port hull is alike, but with the watermaker control panels in the bathroom and the watermaker added in the bow. Both hulls have a headroom of 1,92 m.
Cockpit
The cockpit is protected by a hard bimini with LED lighting (2016). A flexible awning and 2 further 70%-sunproof awnings can be added, if the mainsail is not in use (all 2016).
The cockpit has U-shaped benches with teak grating. The position of the central steering wheel enables the person in charge (if he/she really wants to hand-steer) to stand or to sit on a high seat under the bimini. This seat can be taken away or adjusted to a normal seating position. A folding table can complete the cockpit.
Access from the cockpit to the saloon is through an acrylic glass door. The lower part of the door can be protected by a customized wooden hatch board against water in very heavy weather. (We have never had to use it, as breaking waves have never reached the cockpit.)
In the middle of the cockpit is a flush mounted locker covered by a wooden grating for gas bottles and diesel jerry cans.
Thetis is sailed entirely from within the cockpit. Apart from setting up or taking down the spinnaker all reefing and sail trimming operations are handled from there. Nobody needs to leave the safety of the cockpit during sailing. This ensures that while one person is on watch, the other can sleep soundly.
Rigging
Thetis is equipped with a 16 m (48 ft) carbon fiber mast with a three point rig. The rigging consists of 16 mm Dyneema shrouds and a 10 mm Dyform stainless steel forestay with a fitted Profurl C420 roller reefing system (2015).
The main runs in FACNOR aluminum tracks with Facslide F 10 recirculating ball bearing cars. It is reefed by 3 in-boom reefing lines led back to the cockpit from the mast.
Guard rails are 6 mm Dyneema supported by stainless steel stanchions, with stern gates.
History
In the first phase of her history Thetis was stationed in the mouth of river Ems in Germany during the summer months and was sailed in the North- Baltic-, Mediterranean Sea and North Atlantic. For winter storage (half of her lifetime) she was taken up river Ems to her home town, Haren, Germany, where she spent the winters in the dry under a tent. Time enough for regular maintenance and modernization. Most of the sailing was done with a crew of two. Thetis can easily be handled by two persons only. She has never been in charter!
In all those years Thetis had proved herself sturdy enough for serious blue water sailing and plans were made to take her across the Atlantic. This decision led to quite a few further changes concerning her bluewater sailing capabilities. Her 14.50 m aluminum mast was exchanged for a 16 m carbon fibre one in 2015, longer than before. but much lighter. Most of the standing- and partly running rigging is now Dyneema. To offer protection from the tropical sun a hardtop bimini was constructed in a carbonfiber- sandwich laminate. All of this has improved Thetis' general sailing performance and suitability for the tropics.
All lifelong modernization measures do not make Thetis a new boat, of course. But apart from her hulls, deck, furnishing and engines there is nothing left on board of what the boatyard built in in the year 1990. And what is left from those days has regularly been serviced or renewed when needed. Many other parts, electronics in particular, have regularly been brough up to date. All in all Thetis now has a virtual age of – say – 18 years, which would mean she was built in about 2000.
In July 2016 Thetis started her longest voyage so far: as part of the Barbados 50 fleet from the Canaries to Barbados, where she arrived in November 2016. On this long voyage Thetis proved herself a willing, fast and safe boat. The crew also enjoyed the independence, which enough solar-generated power, a watermaker and a rain catchment system give you. As a result the boat arrived with full water- and diesel-tanks. While other boats, also new ones, had suffered massive failure of their systems, ther had not been the slightest complaint. The crew of two was rested and relaxed.
Thetis has been sailed by her regular crew in the Caribbean since then. This will continue unless a new owner for her is found with a heart for a ship with a personality, standing out of the masses of built-to-be-chartered boats. Thetis has never been in charter and she has never been in a hurricane. There are no repairs pending and she is ready for her next 50,000 miles.
Location
Thetis is currently sailed in the Southern Caribbean Sea or – during the hurricane seasonon – she is on the hard in Grenada. She is planned to be re-launched on October 30.